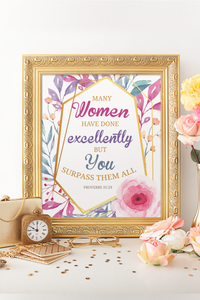 Awesome!
I love this! I can't wait to print it!
Proverbs Art printable
Absolutely adore this printable . It turned out so pretty on premium paper . My plans are to frame and hang in my bedroom
Scripture art printable
Beautiful art for wonderful women in any season.
Geometric Floral Scripture Art Printable 👍
Hi Sarah Thank you so much for this free gift. I think it is awesome and speaks volumes to who we are as a woman/women thank you for creating this beautiful printable.